New Zealand's arrangements for dealing with national security issues have evolved from what was for a long time known as the Domestic and External Security Coordination (DESC) system, and is now more generally referred to as the "National Security System".
In New Zealand, similar governance and coordination mechanisms are used in both business-as-usual and crisis conditions.
The focus is on managing the generic consequences instead of a specific hazard. This means that experience gained in managing one type of security problem can be readily applied to others, because the management usually involves the same stakeholders. This also has the advantage of keeping policy linked to the realities of operations.
The National Security System operates at three levels:
Ministers (Cabinet External Relations and Security Committee): Led by the Prime Minister – who also holds the portfolio of "National Security and Intelligence";
Chief Executives: The Officials' Committee for Domestic and External Security Coordination - commonly referred to as ODESC;
Senior Officials and other officials: Watch Groups, Working Groups and committees.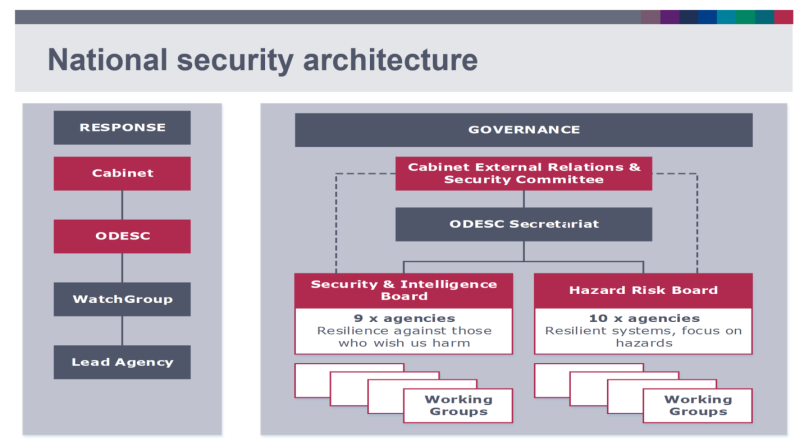 The existence of a structured approach to national security through the National Security System does not override the statutory powers and responsibilities of Ministers or departments. Responsibility for actions and policies remains with the Chief Executive of an agency, statutory officers and the relevant Minister. The aim of approaching national security considerations through the construct of the National Security System is to ensure more effective coordination when agencies work together on complex problems in order to achieve better outcomes.