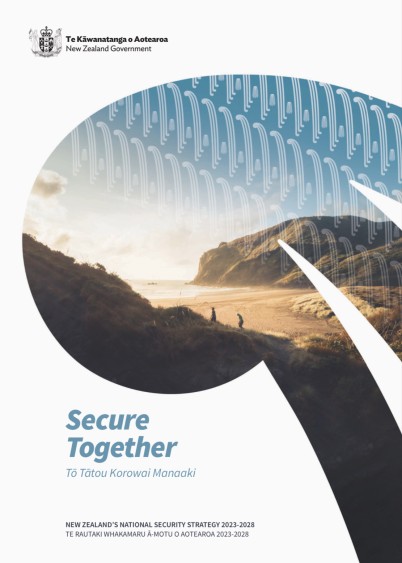 New Zealand's first ever National Security Strategy was released in 2023 to guide New Zealand's approach to national security. It embeds the lessons of the Royal Commission of Inquiry into the attacks on Christchurch masjidain and sets a vision for New Zealand's national security that promotes a focused, integrated, and inclusive approach.
Secure Together reflects New Zealand's unique geography, history, and values as a basis for how the country can navigate a more contested and disrupted world.
The Strategy underscores the importance to New Zealand of a peaceful, stable, and resilient Pacific, and recognises the value that close international partnerships contribute on every security challenge that we face. It acknowledges our commitment to human rights, the rule of law, and te Tiriti o Waitangi / the Treaty of Waitangi.
Read the National Security Strategy

Everyone can play a role. New Zealanders make contributions to our national security every day, protecting whānau and communities. This includes through:

Being aware and informed

T

aking measures to protect yourself and those around you

L

ending your expertise and knowledge

L

eading in your community

C

ontacting government if needed 
Why we need a National Security Strategy
Our context and country have changed. Threats are reaching New Zealanders more directly than ever before. In recent years, New Zealand communities have seen and felt the impacts of national security events first hand, including horrific terrorist attacks, growing disinformation, and cyber-attacks on critical national infrastructure.
To better meet these challenges, the Royal Commission of Inquiry into the terrorist attack on Christchurch mosques underscored the need for stronger leadership, clearer direction, and greater accountability to the New Zealand public on national security. It also challenged government to build a new conversation with New Zealanders about the national security challenges we face.
New Zealand's first National Security Strategy embeds the lessons of the Royal Commission of Inquiry in an updated approach focused on acting early and working together to create a more secure New Zealand, now and into the future.
What the Strategy does
The Strategy will guide national security agencies to act earlier to prevent threats, and to better prepare New Zealand society in cases where they eventuate. Treating threats early results in less harm for the whole of New Zealand.
The Strategy also increases public understanding of national security, enabling increased participation by New Zealanders, and building confidence in our national security. An informed society is a more resilient one – we can be better prepared to meet challenges together.
The Strategy includes information on how New Zealand is working to prevent national security threats across a range of core issue areas. Many of these threats reach New Zealanders more directly than ever before. This is why it is important for the people of New Zealand to be informed about these core issues, what Government is doing to protect New Zealand from them, and what role all New Zealanders can play. While Government is responsible for national security, New Zealanders can contribute to our collective security and resilience. 
These core issues include: 
Strategic competition and challenges to the rules-based international order

Emerging, critical and sensitive technologies

Disinformation

Foreign interference and espionage

Terrorism and violent extremism

Transnational organised crime
Economic security

Pacific resilience and security

Maritime security

Border security

Cyber security

Space security
The Strategy also recognises broader drivers of insecurity, such as climate change and social instability­. These are connected issues which can have national security implications.
Public engagement on the National Security Strategy 
Public engagement on the development of the National Security Strategy took place from July-October 2022. You can find background material on the Strategy used to support the engagement (in English, te reo Māori, Gagana Sāmoa, Arabic, Español, Simplified Chinese, Somali, Urdu and Korean), and the public engagement summary below.
Kōrero on the development of Aotearoa New Zealand's first National Security Strategy
Public engagement focused on the role society plays in national security, how government can enable this participation, and what the public wanted to see in a national security vision. We also asked about how to improve public trust and confidence in national security agencies, and the role of te Tiriti o Waitangi in national security.
This process was part of an ongoing public conversation on national security which will continue beyond the completion of the Strategy. There will be further opportunities for you to participate in the national security discussion.