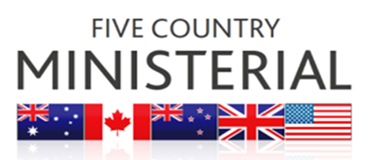 The Five Country Ministerial (commonly known as the FCM) is an annual meeting of home affairs, public safety, interior, security, border and immigration Ministers from Australia, Canada, New Zealand, the United Kingdom and the United States of America. Ministers meet to discuss national security challenges of mutual interest and concern and to discuss opportunities for collaboration.  
The scope of FCM meetings is broad, covering topics ranging from border and migration security, counter-terrorism and aviation security, to countering child exploitation and online harm.
FCM Meetings to date
The FCM first met in Monterey, California in July 2013. In 2016, Immigration Ministers were invited to join FCM, in recognition of the intersection between national security, immigration and border management concerns. 
Five Country Ministerial (FCM) Meetings New Zealand has attended
Date of FCM
Location
New Zealand Minister
22 July 2013
Monterey, California, United States of America
Hon Judith Collins
5/6 February 2015
London, United Kingdom
Hon Christopher Finlayson
16/17 February 2016
Washington D.C, United States of America
Hon Christopher Finlayson
26 June 2017 
Ottawa, Canada

Hon Michael Woodhouse
Hon Christopher Finlayson

28/29 August 2018
Gold Coast, Australia
Hon Andrew Little
Hon David Parker
Hon Iain Lees-Galloway
29/30 July 2019
London, United Kingdom
Hon Andrew Little
Hon David Parker
17/18 June 2020
(Virtual) New Zealand and United Kingdom Co-hosted
Hon Andrew Little
7/8 April 2021
(Virtual) Hosted by New Zealand
Hon Kris Faafoi
12/13 September 2022
Washington D.C., United States of America
Hon Michael Wood
27/28 June 2023
Wellington, New Zealand
Hon Andrew Little
Five Country Ministerial Communiqués
Is FCM a "Five Eyes" meeting?
FCM is not part of the core Five Eyes intelligence-sharing arrangement, but rather it focusses on policy cooperation and coordination. There are separate issue-specific groups that sit under the FCM umbrella on immigration, customs and border security, cyber security policy, critical infrastructure, aviation security and research and development.
Who represents and speaks for New Zealand at FCM?
New Zealand's attendance at FCM is delegated to relevant portfolio ministers as whole-of-government representatives. The current New Zealand representative is the Minister of Immigration and Minister Responsible for the GCSB and the NZSIS, Hon Andrew Little. The Department of the Prime Minister and Cabinet (DPMC) and Immigration New Zealand provide administrative support.
Where does the Quintet fit in?
The Quintet brings together the Attorneys-General of the same five countries to discuss and share information about complex legal issues, in which they have mutual interest. Often these issues concern matters of international law, cross-border legal issues, including international cooperation in law enforcement, or matters of constitutional significance. Given the potential for overlapping interests, the FCM has generally occurred alongside an annual joint meeting with the Quintet, which allows for discussion of matters of mutual interest. The Quintet also convenes separately each year.  Crown Law supports the Attorney-General's engagement with the Quintet. 
What are some of the initiatives arising from the FCM?
Based on discussions at the FCM, a range of initiatives may be proposed each year. Recently, the FCM members have released joint statements on the threat of ransomware and, along with Japan and India, the challenges posed to public safety from end-to-end encryption.   
The Voluntary Principles to Counter Online Child Sexual Exploitation and Abuse were developed following the 2019 FCM.